The Lotus Education & Arts Foundation is a not-for-profit 501(c)3 organization based in Bloomington, Indiana
(est. 1994).
STILL NEEDED:
• Mission
• Accessibility – link to a downloadable pdf with all info instead of list?
Our mission is to create opportunities to experience, celebrate, and explore the diversity of the world's cultures, through music and the arts.
All Lotus programming supports the institutional mission: our annual Lotus World Music & Arts Festival; our Lotus Blossoms Educational Outreach program; the Lotus Firebay, our community space for performances and workshops; and Edible Lotus, our fundraiser; as well as a vibrant Visual Arts program. Lotus also offers special programming and events with community partners throughout the year.
The Foundation's flagship program is the Lotus World Music & Arts Festival.  Established in 1994, the Festival is one of the oldest world music festivals in the U.S. and the only festival of its kind in the state of Indiana.  Now entering its 27th anniversary year, it attracts more than 12,000 people to downtown Bloomington annually each fall, for 4-5 days of music and arts from around the globe.  Through the Festival, Lotus creates  – on a grand scale – the rare opportunity for audiences to experience places far removed from their everyday routines and to broaden their worldview through the arts.
Lotus is supported by a diverse funding base that includes individual contributors, business sponsors, foundation and governmental grants, and ticket revenues.  The organization is named partly in honor of Indiana musician Quinten Lotus Dickey (1911-1989). His spirit of open inquiry into the music of cultures other than his own—and his gifts as a musician, singer, and songwriter — inspired the founders.
SAVE THE DATE!

28th Annual Lotus World Music & Arts Festival

September 23 - 26, 2021
Lotus is committed to selecting world-class performers who represent the highest standards of musicianship and professionalism. Lotus is distinguished among festivals by not relying on "headliners", but rather presenting a non-hierarchical mix of performers and prioritizing discovery and inspiring encounters with the new and often unfamiliar. Lotus is also somewhat unique in considering American music as part of the "world" in "world music"– be that American roots and folk music, or music reflecting our tapestry of immigrant experiences. Each year, the festival typically showcases a roster of 25-30 different artists or groups.
Over the last 25 years, Lotus has hosted nearly 575 artists or ensembles from 120+ different countries or culturally distinct regions. The Festival regularly attracts an unusually multi-generational audience, participation from local and regional ethnic/cultural communities, and a significant out-of-town population from across the state and across the country. Estimates in partnership with our local Visitors Bureau calculate that Bloomington enjoys an annual economic impact of ~$500,000 on each Festival weekend.
Lotus transforms downtown Bloomington for the Festival, creating a 10-block pedestrian-friendly perimeter and filling 6-8 different venues simultaneously with music and dance. Venues include a range of public spaces, from large outdoor tents perfect for dancing to family-friendly city parks for interactive workshops, to intimate churches and art spaces suited for attentive listening and contemplation. Ticket-buyers get a wristband that provides access to all Festival venues, allowing listeners to sample, discover, and relish in unexpected encounters. In addition to ticketed evening showcases, the Lotus vision of inclusion, diversity, and access also reaches into the wide scope of activities that Lotus offers free of charge on Festival weekend — 40+ hours of free outreach that invites participants from all economic walks of life. We present a free "Lotus in the Park" event with workshops and concerts, a free and interactive Arts Village displaying community-generated visual arts, as well as parades, processions, and exhibits. Lotus is committed to accessibility and to drawing the widest possible cross-section of participants to become part of the music and arts of the world around us.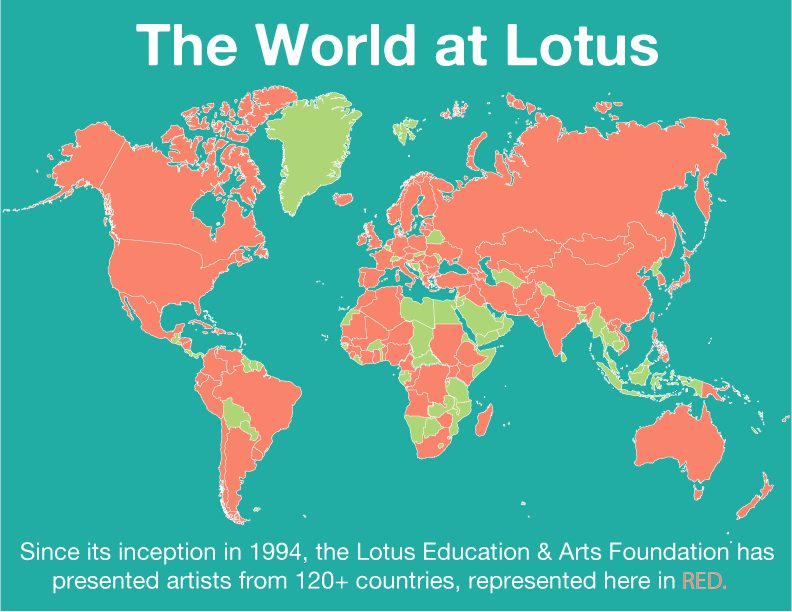 LOTUS THE MAN, LOTUS THE FLOWER
By choosing the name "Lotus" for the Festival, the founders wished to equally honor our local heritage as well as the international scope of the music and musicians who would come to perform. We are proud to celebrate Indiana musician Quinten "Lotus" Dickey as a partial namesake for our Festival, alongside the Lotus flower which has deep meaning in many cultures and religions and blooms all over the world — including right here in Indiana.
A gifted folk singer, songwriter, and musician from rural Orange County, Lotus Dickey (1911-1989) wrote beautiful songs that still speak to people of all walks of life. He was a singer, a prolific songwriter, and a musician who played fiddle and guitar.  The tunes and songs that he wrote drew from his family and community, as well as from country singers and fiddlers he heard on the radio.
Each year, the Lotus World Music & Arts Festival honors both Lotus inspirations:  our logo evokes the flower, and we honor Lotus Dickey's memory with a set of music, an interactive workshop, or a designated "Lotus Dickey Artist" that introduces new audiences to his music and the old-time traditions of the United States. Learn more about Lotus Dickey 
Executive Director:
Tamara Loewenthal
Interim Community & Arts Engagement Director:
Kathleen Clark-Perez
Operations & Business Manager:
Development Coordinator:
Communications & Marketing Director:
Kathleen Clark-Perez
Booking Consultant (Festival 2020):
Tom Frouge
Festival Volunteer Coordinator:
Brigitt Nasby
Jennifer Riley Simone, Chair
Scott Burgins, Vice Chair
Andy Qualls, Secretary
Heidi Harmon, Treasurer
Geoff Bradley
Beth Ellis
Jillian Kinzie
Genevieve Pritchard
Peg Stice
Tamara Loewenthal, Ex Officio
Advisory Board
Sandi Clark
Jane Clay
Doug Eibling
Bob Flynn
Candice Foss
Jan Grant
Kim Gray
Brandi Host
Deb Hutton
Jim Krause
Laura Plummer
Shawn Reynolds
Bridget Rinehimer
Michael Shermis
Jobs & Internships at the Lotus, Lotus Blossoms, and Firebay.