Nick Clark's six-year stint as a Lotus volunteer began with our Lotus Blossoms Bazaar and ended with the Festival's Venues Committee. He and his family – wife Janice and daughter Isabel — are leaving Bloomington for Oklahoma. Otherwise, we'd keep him on Team Lotus. [Above, Nick talks to Lotus Volunteer Coordinator Tamara Loewenthal at the 2011 Lotus Blossoms World Bazaar; photo by Lizzie Plant.]
When you're not volunteering for Lotus, what do you do?
Recently, I finished a Ph.D. in Political Science, focusing on the European Union and European politics. Since August, I've been on IU's Political Science faculty, and I've just stepped down as coordinator of the IU Strategic Languages and Cultures Program.  Now I'm heading to the University of Oklahoma to join the Political Science faculty.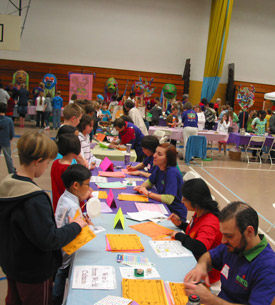 What was your first Lotus volunteer gig?
I got involved through the Lotus Blossoms Bazaar. As a fairly new graduate student at IU, I was coordinator of the International Outreach Council [IOC]. I knew a little about the Festival, but not much about Lotus's educational outreach. Part of my IOC job was scheduling IU Outreach Center participation in the Bazaar. I did that for two years, and then I stayed on the Bazaar planning committee as a volunteer after that. It's difficult for IU grad students to tap into non-university aspects of Bloomington, and the IOC – Lotus Blossoms relationship really helps bridge that divide. I also discovered that the Lotus Blossoms emphasis on enhancing kids' education has a strong positive effect on the community.
Any advice for someone thinking of volunteering for Lotus?
The Festival is amazing, but to really understand Lotus, and to volunteer for the sake of volunteering, start with Lotus Blossoms.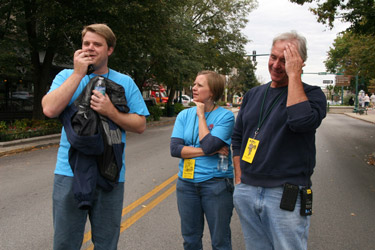 You wound up volunteering for the Festival, too.
As I got to know more Lotus staff and volunteers, I wanted to be more involved with the organization. I started with shifts at Lotus in the Park, but for the last three years, I've been on the Festival Venues Committee. The Venues Committee designs and constructs Festival infrastructure – in other words, it builds the skeleton of the Festival. It's a beast that requires a fairly large committee with devoted volunteers. It was a good fit for me, from the start; the committee has a number of long-time members, with lots of experience, but the leadership was open to new ideas.
This year, you were the co-chair of that committee. What was most memorable about the experience?
One of the benefits of volunteering for Lotus is the people you meet from all over the Bloomington community. These are the people who make Lotus, and there is immense satisfaction in knowing that you're all working together to create the Festival. If you come here as a graduate student, like I did, it's not always easy to discover the parts of Bloomington that aren't the university. Lotus provides strong connective tissue to the rest of this community: through Lotus, I've gotten to know more about Bloomingfoods, the City administration, other local organizations that volunteers work for, and so on.
I recruited several grad student colleagues to my committee this year, and here's the way I sold it: Being a volunteer makes you part of Lotus, and Lotus is a way to get to know Bloomington. I honestly don't know if there's a better way for IU students to get more integrated into this community.
I've really appreciated all that I've had an opportunity to do for Lotus. And if I weren't leaving Bloomington, I'd be back on the Venues Committee next year.
Want to find out more about volunteering for Lotus? See the Volunteer section of our site, or send an e-mail to volunteer [at] lotusfest [dot] org — we'll add you to our mailing list.