"Big Tent" Multimedia Experience
September 28, 2018

-

September 29, 2018

Free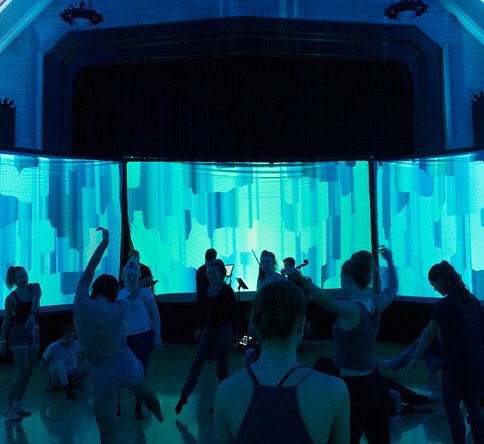 Friday, September 28 & Saturday, September 29
6:00-midnight  |  4th & Washington Streets (fenced area)
Free  |  Open to the Public
Programming Details TBA
Big Tent, a 360° video and audio projection installation/venue (free, located at 4th & Washington), leverages immersive technology to create a unique, communal viewing experience for Festival attendees. In this age of individual hand-held screens, Big Tent echoes the Festival ethos in creating opportunities for people to interact and share a transformative multimedia experience.   Students and faculty from across the IU and IUPUI systems have been artistically challenged to create meaningful, original work for this large-scale, A/V-surround environment, and the results include works with video and sound, experimental film/cinema, game design, real-time video capture, and archival celebrations of the 25-year Lotus journey.
Festival participants will not require a ticket to enjoy this exciting installation — the experience is free and open to the public.
Click here or scroll down to find the full schedule, content, and credit listings for Big Tent at Lotus.
Presented in partnership with the FAR Center for Contemporary Arts and the Graduate Hotel.
Big Tent is a creation of Benjamin Smith, D.M.A. and Robin Cox, D.M.A., both faculty of the Purdue School of Engineering & Technology, IUPUI.  Content development on the IU Bloomington campus is led by Norbert Herber, Ph.D., of the IU Media School.
Support for Big Tent at the 2018 Lotus World Music & Arts Festival was provided by the IUPUI Arts and Humanities Institute and the IUPUI Department of Music and Arts Technology. Funding to commission original work for Big Tent at this event was made possible by the IU College of Arts & Sciences Ostrom Grants Program and a Public Art Grant from the Office of the Vice Provost for Research at Indiana University.
---
Sensory Sensitivity Advisory
A very small percentage of individuals may experience epileptic seizures or blackouts when exposed to certain light patterns, flashing lights, or backgrounds on an electronic screen. If you, or anyone in your family, have an epileptic condition or have had seizures of any kind, please take proper precautions before viewing.
Some people may experience motion sickness, nausea, disorientation, blurred vision, or other discomfort while experiencing multimedia content. If you, or anyone in your family, get motion sickness easily, please take proper precautions before viewing.