Unwind and restore with a unique yoga experience after an exciting Festival weekend. This is Lotus's third year offering weekend yoga and in honor of the 25thanniversary Lotus World Music & Arts Festival, yoga offerings will be expanded to two days, on Saturday and Sunday. Students of all levels are welcome to join this accessible practice and are encouraged to work at their own level.  Sessions contain multiple segments and instructors will be on hand to demonstrate and assistyoga participants. Saturday's session will be offered in the "Big Tent" joining video, audio and movement in a unique way. Sunday's session will be offered at the John Waldron Arts Center at the Rose Firebay room and will differ in teachers and practices. Festival Unwind Yoga has been coordinated by Samantha Eibling since it began in 2016. She is a local yoga instructor and she shares a few insights about this year's yoga experience.
What was your inspiration for bringing a yoga experience to Lotus?
I believe yoga and music are experienced in very similar ways.  They are each embodiment practices – connecting our minds and bodies on a deeper level.  Music plays an important role in yogic tradition – Sanskrit, the language of yoga is a vibrational language and the seed sounds transmit meaning beyond the simple letters we see on paper.  Chanting and mantras are especially prominent in the Bhakti (translated as devotion/love) lineage.
When we hear music our bodies respond on a visceral level, even when our minds cannot translate the words.  We feel the vibrations and we connect (or we don't).  Music and yoga enable us to move from our thinking minds into our bodies and heart.  They allow us to experience life from a different space.  Lotus festival is a similar tool.  It opens us up to a different view, an experience of other worlds through sensing, feeling, vibration, color.  When we are exposed to artists and traditions from around the world, we are able to move from the thinking mind, the stories of other, into our hearts, into the rhythm of the dance, the beats of a drum – we are able to connect on a level that needs no explanation.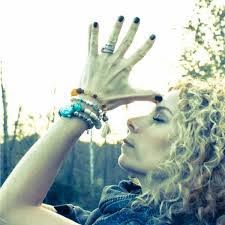 What has been your experience over the last 2 years of "Festival Unwind Yoga" been like?
I am passionate about making yoga accessible to our local community and bringing those of us in the yoga community who might not get a chance to gather, a place to come together.  Each year is a bit different because we invite different independent teachers and local studios to participate.  It showcases the abundance of styles and offerings available locally.  Each year we have collected voluntary donations for Lotus Blossoms – an educational arm of Lotus which provides outreach to local and regional schools.  The program brings artists from around the world to school children helping bridge the gap between cultures through music and art.  What can be better than that?

What's new this year?
This year we are excited to offer yoga on both Saturday and Sunday.  Saturday's event will take place in the Big Tent – an interactive art display.  Participants are likely to become the art.  Sunday will be offered indoors at the Rosefirebay room in the Ivy Tech John Waldron Arts Center.  Each session will offer something different and have different teachers.  We encourage coming to both or either.  
Yoga Sessions:
Sat. Sept. 29: 10:30am-noon, Festival Unwind Yoga Part I, "Big Tent" Multimedia Experience
Sun. Sept. 30: 11:00am-12:30pm, Festival Unwind Yoga Part II, Rose Firebay, Ivy Tech John Waldron Arts Center
FREE, voluntary donations accepted
All donations support Lotus Blossoms, the educational outreach program of the Lotus Education and Arts Foundation.
Festival Unwind Yoga is presented by Samantha Eibling Yoga.
SaveSave