We're starting 2011 with the first in a series of sponsor profiles, giving us a chance to shine a light on some of the people, businesses, and organizations who support the Lotus mission. First up: ISU-The May Agency. Pictured above: Young artists at work on a mural in the Lotus in the Park Arts Camp, a Festival event co-sponsored by ISU – The May Agency.
Growing up in Ellettsville, Sarah May has been a Lotus fan "forever," she says. She's now introducing her young daughter to the magic of Lotus. All of which is extra sweet, because the company Sarah works for is also a Lotus sponsor. She's part of a third-generation family business — ISU-The May Agency — that has provided personal and commercial insurance since 1949.
The company sees itself as an integral part of the Monroe County scene. "We don't do a lot of direct advertising," says Sarah, who is the agency's marketing and advertising manager. "Instead, we support events such as the Lotus World Music and Arts Festival and Parks and Recreation's Summer Concert series, the Boys & Girls Club,  Girls, Inc., and Ellettsville's Monroe County Festival. It's a great way for us to give back to the communities that have supported us for so long."
The May Agency has been part of the Lotus World Music and Arts Festival since the mid '90s, initially as an insurer and then as a financial sponsor. One of the first business sponsors of Lotus in the Park, Sarah and her team have been essential in helping bring that free programming to the Festival. "We love it," laughs Sarah. "The free music, all the kids' activities – and the Dragon Knights! They were a bit scary for the younger ones like my daughter, but it was fun-scary."
"I think that it's important for kids to experience things that are different," Sarah continues. "I remember having the Windfall Dancers perform in my school when I was a child, and how exciting it was to see something I'd never seen before."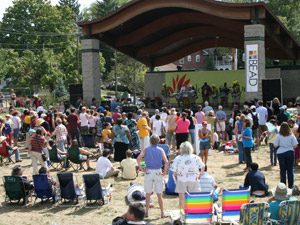 "We're lucky to have such rich diversity for a small community, and to have something like Lotus, where the unexpected can spark an interest in outlying communities and different cultures," Sarah says. "And how better to foster an appreciation of different parts of the world than by experiencing their music? I mean, I may never travel to China or Mongolia, but I can actually learn something about those cultures by listening to Mongolian throat singing at the Festival. How cool is that?"
For more information on ISU – The May Agency, visit their website.
Photo credits: Top, center: Michael Redman. Bottom: Pat Gushko.