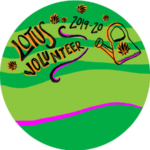 Volunteering for the 2019 Lotus World Music and Arts Festival
We are celebrating our 26th Festival this year, and we hope you'll want to be a part of it!
Established in 1994, the Lotus World Music and Arts Festival has become one of
Bloomington's largest and most-beloved cultural events and is the only festival of its kind
in the state of Indiana. It is organized and administered by a small staff and by hundreds
of volunteers. The 26th annual festival takes place Thursday, September 26 through
Sunday, September 29, 2019.
Volunteers are crucial to the success of every festival! It is very important that
volunteers commit not only to their assigned shift(s) but also to an orientation. In
exchange for your commitment, wherein you ensure the smooth operation of a wonderful
event, you are able to attend the festival on Friday or Saturday night.
We also have a program in place for teens, ages 16 or 17, that enables them to
volunteer in the Visual Arts Village and Lotus in the Park, or as monitors at selected
venues. In order to apply, potential candidates must send an essay of 150 to 200 words
in length, stating why they would like to volunteer and what they hope to gain from the
experience, as well as how they view their potential commitment. They should send
their essay as a word document to volunteer@lotusfest.org. Candidates who have been
accepted will be contacted via email or phone for the next step in the application
process.
All volunteers receive a button and t-shirt that mark you as a proud Lotus volunteer.
Check out this year's awesome design. To help make your Lotus volunteer experience
a good one, please review the Festival Volunteer Policy, Volunteer Positions, and Frequently Asked
Questions before submitting your application. We want to be certain that you have
thoroughly reviewed our information about the exchange between the volunteers and the
festival, including job descriptions and expectations.
 To apply, go to our online volunteer application
All volunteers are required to attend a job-specific orientation on either the evening of Tuesday,
September 17, or the evening of Thursday, September 19. Please make sure that you are available
for one of the orientations BEFORE submitting your volunteer application.
Questions? Our website addresses many aspects of volunteering for Lotus, but if you
don't find your answer in the FAQ section, please contact me at volunteer@lotusfest.org.
Thanks again for your interest!
Sarah Lollis, Interim Lotus Volunteer Coordinator
2019 Festival Volunteering is generously supported by Advantex, IU School of Public & Environmental Affairs, Bloomington Brewing Company, One World Catering & Events, and Pizza X.
SaveSave
SaveSave
SaveSave