Where is the Festival?
The Lotus World Music & Arts Festival is held at indoor and outdoor venues in downtown Bloomington. The venues may include the Buskirk Chumley Theater, various downtown churches, large tents on downtown streets, the Convention Center, and other private establishments.
How do I apply to be a volunteer?
You must apply online (sorry, no exceptions).  The online volunteer application is available HERE.
If you have questions about the process, e-mail us at volunteer@lotusfest.org.
How do I know that I have been accepted as a volunteer?
Upon submission, you will receive a confirmation that we have received your application.  In mid to late August, you will receive an e-mail offering you a position at the Festival. It will ask you to login to your volunteer page at Better impact to confirm or decline a shift. You will have 72 hours to confirm or decline your Shift Offer. If we do not hear from you, we may offer your shift to another person. Volunteers must make sure that they have a reliable system for collecting e-mail and telephone messages
Who does the scheduling?
Sarah Lollis, the Volunteer Coordinator, does all the assigning of volunteers, and when necessary, checks with other staff to choose the best person for the job. We are working with the preferences of hundreds of volunteers and the demands of a complex event. Once you have been assigned a shift, please try to fulfill your commitment. If something does come up, please call or e-mail us as soon as possible so that we can work to fill your shift. Call (812-337-0417) or email our volunteer coordinator with questions
How do you assign shifts?
Returning volunteers receive first priority for shift preference, and length of service may influence choice of position. All applications received on or before the Application Priority Deadline (the second Tuesday in August) will receive preference over applications received after the deadline has passed. People who volunteer for more than one shift will most likely receive their top job choices. Please remember that we will be accepting applications after the deadline date and would love to have you volunteer.
Can volunteers request certain shifts?
Yes. On the application form you can identify your preference for job areas and tell us what shift times work best for you. We will work as hard as we can to make sure everyone gets a shift they will enjoy.
How do I know which night to work?
Information on confirmed Festival artists and the night(s) they are performing can be found on this site. You can use this information in your decision-making process, but please remember that every year there are last-minute changes to the Festival line-up.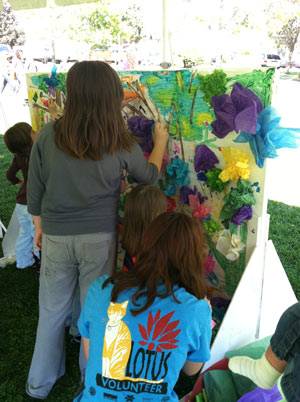 When do volunteers get their shift assignment?
Your volunteer assignment will be sent to you in late August or early September, along with more details about your Volunteer Orientation.
Why are shifts six to seven hours long?
The standardized length eliminates a mid-evening shift change, allows Festival patrons a much smoother night, and creates a much stronger volunteer team.
When and where is my Volunteer Orientation?
2019 Volunteer Orientations will be held on Tuesday, September 17  and on Thursday, September 20 at the Monroe County Public Library, 303 E Kirkwood Ave, in the Auditorium on the first floor.
What are the different jobs?
We need strong, energetic people for Set Up and Tear Down; people with sales experience for our Admissions and Merchandise areas; good hosts for Artist Hospitality; safe drivers for our Artist Shuttle; and all around Lotus lovers to work at the venues. For more detailed information, please go to the Volunteer Job Description section.
Where do I park?
Because the Festival brings thousands of people into downtown Bloomington, street parking will be understandably at a premium. There are now a number of parking garage options available both north and south of the square off of Walnut and College. You can also bike, walk, or take the bus (the Bloomington Transit Service has a downtown depot). For details about Bloomington downtown parking rates and policies, please visit the City's Parking Services web page.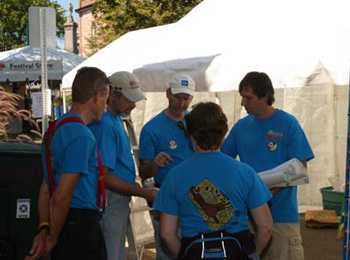 When do I need to be there?
Please plan to be on-site 15 minutes prior to the start time of your shift to start your check-in process.
How and where do I check in?
Your check-in process is in two part
First, go to Volunteer Headquarters, which is located in the Firebay of the Ivy Tech Waldron Arts Center (corner of 4th and Walnut Streets; ground floor entrance, 4th Street side). Once there, you will sign in and receive your volunteer button and any last-minute information. This is also where you will come to receive a Festival admission wristband on Friday or Saturday night.
Next, go to your shift assignment and let your House Manager know you are there. He or she will have a clipboard and a nametag, and will let you know what to do next. Have fun!
Please Note: If you have a shift outside the normal Festival hours, you will be told where to check in at your Orientation session.
How do I get my Friday admission wristband if I am working on Saturday?
You will be on a Friday Admissions list at Volunteer Headquarters. You can go there on Friday to pick up your wristband, after 5 pm.
Who runs the Festival?
The Lotus World Music Festival is the flagship event of the Lotus Education and Arts Foundation and is organized and administered by Executive Director Tamara Loewenthal and the team of dedicated staff, including Loraine Martin (Outreach), Megan Hutchison (Development), Tom Frouge (Booking), Sarah Lollis (Volunteers) – and hundreds of volunteers like you.
Who is in charge of Festival volunteers?
Our volunteer coordinator is Sarah Lollis. Sarah works closely with the various committees, creating shift assignments that align with Festival needs.
What is a Festival Volunteer Manager?
A Festival Volunteer Manager is an experienced Festival volunteer who is in a position of responsibility during the Festival, specifically supervising the work of other volunteers in one area. You will find Volunteer Managers in positions such as House Manager, Ticket Sales Manager, Wristband Exchange Manager, and Merchandise Manager.
Can my child accompany me on my shift?
Unfortunately, no. It is really important that all volunteers are focused first on the work they are doing for the Festival. We request that you make childcare arrangements for the times you will be on shift.
Do you ever accept volunteers who are younger than 18 years old?
On occasion, we do.  Last year, we successfully inaugurated our teen volunteering program, in which we hold up to 20 positions for teens, ages 16 or 17, to volunteer in the Visual Arts Village and Lotus in the Park.  This year we will add monitor positions, at one of our church venues, to the list.  In order to apply, potential candidates must send an essay of 150 to 200 words in length, stating why they would like to volunteer and what they hope to gain from the experience, as well as how they view their potential commitment.  They should send their essay as a word document to volunteer@lotusfest.org.  Candidates who have been accepted will be contacted via email or phone for the next step in the application process.
What if my availability changes?
Please call or e-mail the Festival as soon as you know there is a change in your schedule. We appreciate your timeliness, as your shift is very important and we will have to work to find someone to fill it.
How do volunteers contact the Festival?
You can call 812-336-6599or e-mail us.
2019 Festival Volunteering is generously supported by: Advantex, O'Neill School of Public & Environmental Affairs, Bloomington Brewing Company, One World Catering & Events, and Pizza X.
SaveSave
SaveSave
SaveSave
SaveSave