Victor Gama: Pieces for Acrux and Toha
March 22, 2018 @ 3:00 pm

-

4:30 pm

EDT

Free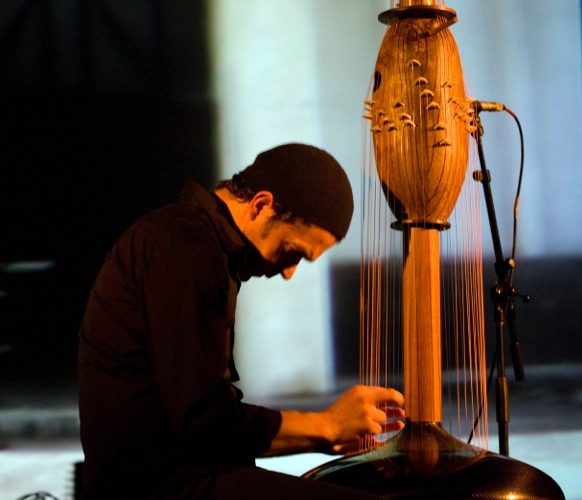 Thursday, March 22   |  7:00 – 8:30 pm (Doors at 6:30 pm)
Buskirk-Chumley Theater  |   114 E. Kirkwood
FREE

Victor Gama is an Angolan composer, musicologist, performer, and designer of contemporary musical instruments for new music.   As a composer, his process begins with the creation of an entirely new instrument, one whose design is steeped in symbolic meaning. Concept design, the selection of materials, fabrication, and scoring all become part of the rigorous way Gama creates inspiring new music for the 21st century, blending current fabrication technologies with ideas, materials, and traditions inspired by the natural world.
This multimedia performance will focus on two of Gama's instruments: the Acrux and the Toha. The Acrux is inspired by the shape of the star constellations of the Southern Cross. Its keys are similar to a "thumb piano" (also called mbira, kalimba, or other names across the African continent), and it is housed in a large hemispherical structure made of fiberglass. The Toha was inspired by the nest of the weaver bird, a nest which Gama has called "one of nature's most astounding installations." The harp-like instrument is meant to be played by two people, just like the many birds who would make a home in the nest. During the military upheavals in Angola from the late '70s onwards, "the nests were totally empty, you couldn't see any birds. They all had migrated because of the conflict," Gama said. Like these densely woven nests, Gama's work — both the instrument and the resulting music — weaves together the complex strands of the cultural, social, spiritual, and natural.
Gama creates music for dance, film, theater and multimedia performances using his unique set of musical instruments as exclusive sound libraries. His solo and ensemble performances have graced renowned international stages such as the Concertgebouw, Carnegie Hall, and Centro Cultural de Belém. His commissions include compositions for the Chicago Symphony Orchestra/MusicNOW, the Kronos Quartet, and the Prince Claus Fund, and he has created instruments for collections in museums such as the National Museums of Scotland.
—————————————
Presented by IU African Studies Program, IU College Arts & Humanities Institute, and Lotus Education & Arts Foundation.
SaveSave