Join Lotus's first-ever teacher workshop – in celebration of our 20 years of working with MCCSC and other area schools!  Presented by the Lotus Education & Arts Foundation; in partnership with the Monroe County Community School Corporation.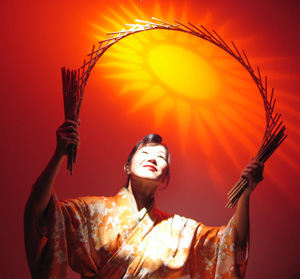 Date: Wednesday, February 18, 2015
Time: 4:30-5:30pm
Location: Bloomington High School South, 1965 South Walnut Street, large group room
Cost: FREE, w/light refreshments provided
Credits: 1 Professional Growth Point 
"Math & Origami" is led by Lotus Blossoms artist Kuniko Yamamoto and is specially designed to help K-5 teachers incorporate the use of origami into their classrooms.  In this free workshop, Kuniko will introduce concepts from the Japanese art of simplicity and origami that can be used to enhance student understanding of math.  For Grades K-2 the focus will be observing lines, shapes and identifying geometric figures, and teachers will learn to teach simple animal figures.  For Grades 3-5 the focus will be triangles, angles and shapes.  Teachers will fold 2-4 basic designs, examine the lines of symmetry, and analyze interrelationships between figures.  Sample lesson plans, curriculum connection ideas, and activities will be shared.  Resources and a study guide can be downloaded from Kuniko's website (www.kunikotheater.com) or on the Lotus website.  Teachers who attend will receive 1 Professional Growth Point (Growth Points are for MCCSC teachers only).
Accommodates up to 50 teachers – pre-registration required.  Open to all public, private, charter, and home-school teachers, on a first-come, first-served basis.
Recommended Grades: K-5
To Register:  Submit the web form below, or contact Loraine Martin, Lotus Outreach Director, at loraine {at} lotusfest {dot} org or (812) 336-6599