Fourth and Rogers Block Party
June 7, 2019 @ 5:00 pm

-

9:00 pm

EDT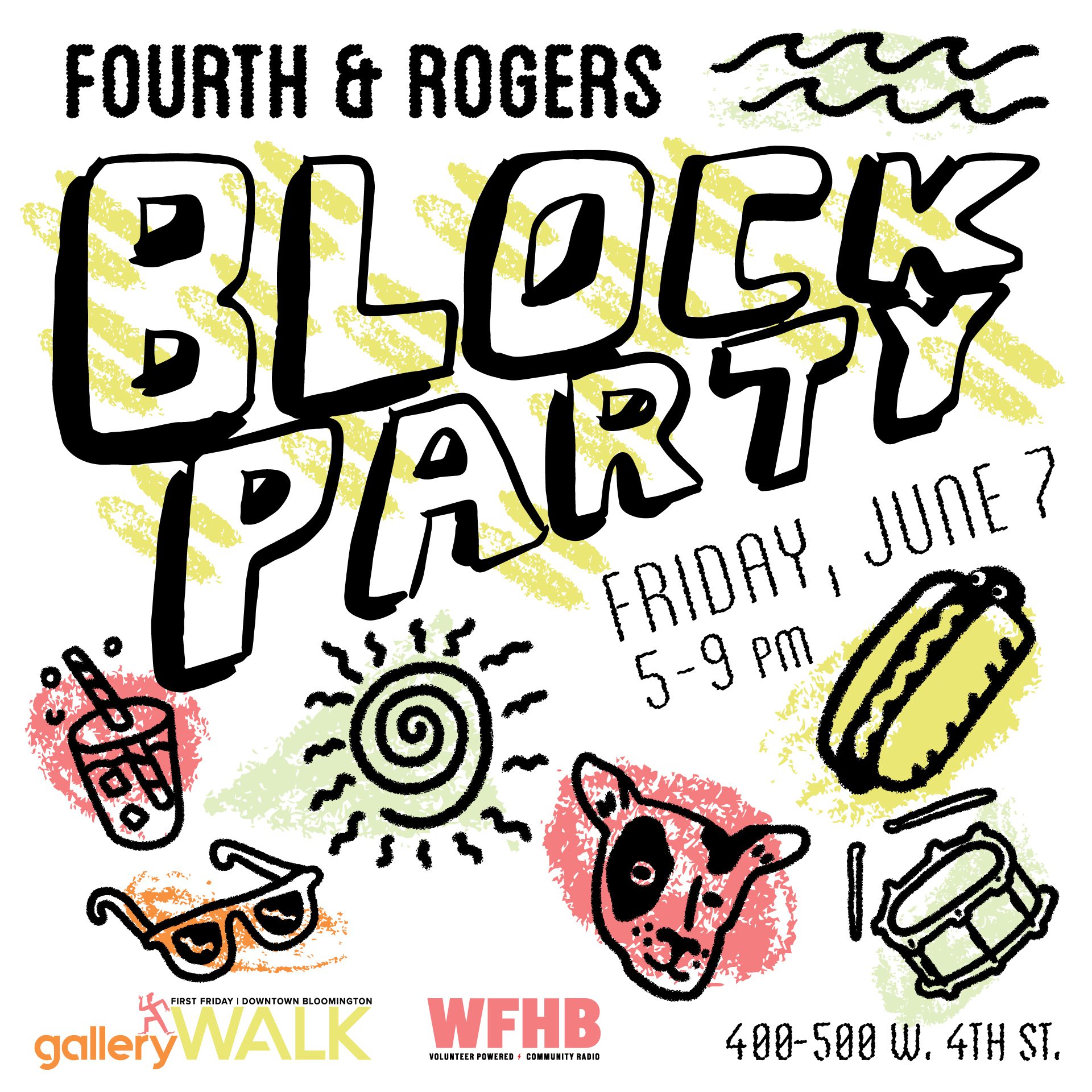 All are invited to celebrate the beginning of Bloomington summer with a First Friday block party on the evening of Friday, June 7 from 5–9 PM. West Fourth Street will be closed for a block on either side of Rogers Street with plentiful art, food, music, and activities for all ages.
The event is organized with the participation of a large group of neighborhood partners, including: FAR Center for Contemporary Arts & Pictura Gallery, I Fell, Rainbow Bakery, Secretly Group, WFHB, rock paper scissors, Lotus, Ardent Instruments, Cicada Cinema, The Bike Shop, Satori Martial Arts, Power Plant Gallery, Persimmon Inn, Oona, Siosi Design, Goat Conspiracy Farm, The Venue Fine Arts, Artisan Alley, Gather, Pili's Party Taco, Rasta Pops, and more.
Vegan barbeque from Rainbow Bakery, Mexican food from Pili's Party Taco, frozen treats from Rasta Pops, and gluten-free ice cream sandwiches from Oona will all be on offer for dinner or after-dinner enjoyment. Sets by Busman's Holiday, DJs from Secretly Group, and jazz combo daVida will be happening throughout the evening
For families, Lotus will offer art-making activities, goats from Goat Conspiracy Farm will make an appearance, and plenty of sidewalk chalk will be available for impromptu creation. Satori Martial Arts will provide live martial arts demos for adults and kids.
Indoors, visitors can view exciting new work by several artists as part of Gallery Walk. Pictura Gallery is exhibiting photography work by Leigh Merrill ("This Place"), with a pop-up exhibit of woodworking and photography by Siosi Design in their theater space. Rainbow Bakery is opening a show of work by Bloomington multimedia artist Mitch Rainey. In their main gallery, I Fell will be exhibiting a mural by Carol Miller, formerly installed in the Player's Pub, along with musically-inspired works by friends of the Pub; the pop-up gallery will be opening "Stitched & Thrown," embroidery and ceramics by Ileana Haberman-Ducey & AB Wylde. Cicada Cinema will be screening the best of the Instant Gratification Movie Challenge continuously inside Ardent Instruments, with a 10-year-anniversary celebration of the beloved community filmmaking event in the I Fell after the block party has died down.
Down the block near Third and Rogers, the offices of Secretly Group will also have a pop-up exhibition with a staff art show, including works by Eric Deines, Christina Porfidio, Ellie Decker, and more, in their breezeway.