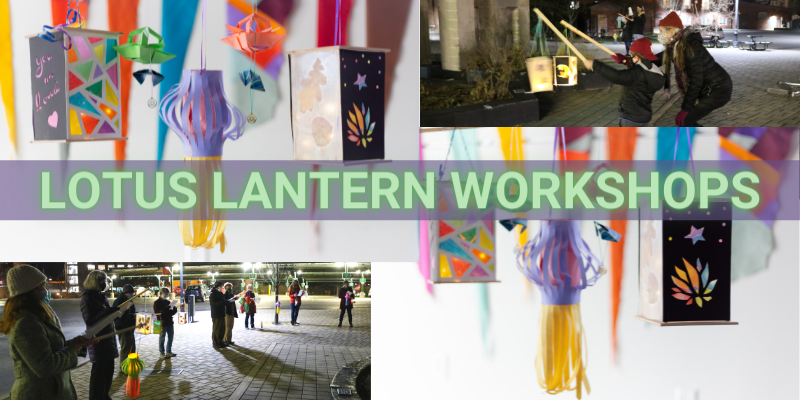 The second annual Lotus Lantern and Luminaria Project is an initiative to bring the glow of lanterns to our Bloomington community as the days shorten and the nights get longer. This year, Lotus will feature a Korean-inspired lantern with a design by Shelley Hanmo Qian of JunoniaArts. Make and take a lantern at this year's workshops.
Participants may also have the option to put together either a Chinese paper lantern or a wooden framed European-style lantern. The Lotus Lantern and Luminaria Project will culminate with a lantern walk on November 19.
Community workshop dates and times will include: 11/2, 11/9, 11/16 from 5:30 – 7 p.m. and 11/13 from 11:00 a.m. – 12:30 p.m.
Participants will also be invited to join our November 19 Lotus Lantern Walk. The walk is open to families, friends, and individuals.
If you are interested in attending a workshop, but the date(s) you are interested in are full, please complete this form to be added to a waitlist.
Want to make a lantern, but aren't comfortable attending a workshop? Please contact Amanda Hutchins (amanda@lotusfest.org) for more information about how you can participate
PLEASE REVIEW THE FOLLOWING BEFORE REGISTERING:
In order to provide a safe environment during the event:
For each workshop, there will be six tables. There will be a maximum of one registration per table, for up to three people seated per the table.
Within each registration, there can be a maximum of three people. The person registering for the table must submit all names of attendees at the time of registration. Limit of one registration per family unit per session. You only need to register once for your party of three.
Ages five and up are welcome. Anyone under the age of 16 should be accompanied by a parent or guardian.
Craft tables will be stationed six feet apart.
All participants must wear masks for the entire workshop.
Lotus will provide hand sanitizer and keep sliding doors cracked open, to allow for fresh air.

IF YOU NEED TO CANCEL YOUR REGISTRATION, PLEASE EMAIL AMANDA@LOTUSFEST.ORG. Letting us know will allow other participants to have a chance to sign up.
Find more information about the Lotus Lantern and Luminaria Project

HERE

.
If you have questions please call the Lotus office at 812-336-6599