Artist Margie VanAuken shares the background on this year's Volunteer T-Shirt art as well as some of her favorite Lotus highlights in a special pre-Festival behind-the-scenes peak at some of the moving parts that converge during Festival weekend!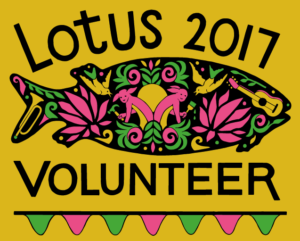 When was your first Lotus Fest?
It was the very first one. I forget exactly which year that was, but it was the first.
How many have you attended?
I've been to every single one. A few of the years, I could only go on one day, but I don't think I've missed one yet.

How did you first cross paths with Lotus?
I've always been a member and active listener to WFHB community radio, (98.1 or 91.3 FM) and I heard about it from there.
Favorite volunteering memories?
I've volunteered for years now, so there are a lot. But I would say one of my favorite things was working the festival store with my daughter when she was a teenager, and we had a blast. We came together the next day, and now she still comes with her husband.

Favorite artist/performance memories?
I have so many; thousands; one of them was DakhaBrakha two or three years ago when they played "Baby Show Me Your Love." I have friends who bought their CD just for that song.

Have you performed other tasks, volunteered, or assisted with Festivals in previous years?
I've done the festival store, and a couple of years I did admissions, and that was fun too. I also designed the festival t-shirt in 2002.

What is your artistic background?
I've been doing artwork since I was able to hold a crayon. All different kinds. I've done millions of things: paintings, drawings, posters, ads, sculptures, cards- it just goes on. Nothing particularly famous, a few things that were a little famous, but those aren't the things I'm as proud of.

What inspired this design?
I looked up the Lotus website to see the dates, and I saw a fish. I don't know who made it, but it reminded me of the courthouse fish, which I like, and so I thought I wanted to do the picture inside of a fish. I wanted to include everything I was supposed to consider (the volunteers, the atmosphere of the Festival, etc.).

Do you have any words of advice or experience to share with someone considering attending their first Festival this year? Why should they go? Why might they be remiss if they don't?
Oh man. GO. You should go. I would recommend listening, either online or on WFHB radio, to the different acts, because there are so many. You will have a better time if you have an idea of who you want to see before you go, because it can be confusing and disorienting if you aren't used to it
It is an incredible experience, I am very proud of Bloomington and Lotus, because every year it is wonderful, and I know, because I've gone every year. It's the experience of the year for this area. It never got too big; it's never lost its integrity or intimacy. It is beautifully fine-tuned, and I am very proud and thankful to have such a wonderful event in our town.
SaveSaveSaveSave
SaveSave
SaveSave