Radha Lakshmi: First Thursday/India Remixed
April 5, 2018 @ 5:00 pm

-

7:30 pm

Free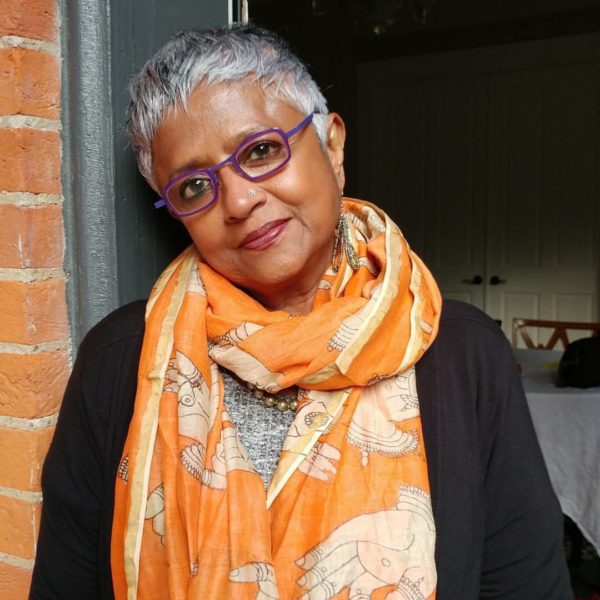 Thursday, April 5   |  5:00 – 7:30 pm
First Thursday Festival/India Remixed
IU Fine Arts Plaza / Showalter Fountain
1201 E 7th St, Bloomington, IN 47405
Free and open to the public
Parking info: https://imu.indiana.edu/directions-parking/index.html
Visit Lotus Blossoms artist Radha Lakshmi at April's First Thursday event on the IU campus, part of the spring India Remixed Festival!  Try your hand at the art of kolam, a tradition from Southern India, using stencils, rice flour, sand, and flower petals.
An interdisciplinary artist, Radha Lakshmi's contemporary works of art emerged from the 'Feminine and Earth' and women's ritual arts from South of India. Radha graduated summa cum laude with a masters of fine art from the University of Wisconsin and magna cum laude with a bachelors of fine art from the Art Academy of Cincinnati. Her span of experience and content reaches from the Folklore traditions of Southern India to the Indigenous Art of Northern Territory of Australia and  to traditional and contemporary printmaking.  Lakshmi currently lives in Cincinnati and teaches 'Creating Sacred Spaces' workshops through art and meditation for children and  adults.

"In Chennai, Southern India, where I grew up, women rose before dawn. It was their quiet time with the universe; free from their hectic schedule that they face during the day, women clean and draw geometrical rice powdered patterns on the ground at the entrances of their home," Lakshmi says. "This traditional ritual of creating sacred patterns with rice powder or paste on walls or the ground is a tradition that has been passed down from mother to daughter for over two thousand years."
Radha Lakshmi is brought to Lotus Blossoms in partnership with  IU Arts and Humanities Council/India Remixed Festival and the IU Eskenazi Museum of Art.